Secretary and Director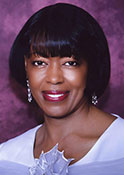 Ms. Markham serves as a member of the Board of Directors and Secretary for CharityMobi. She is an active board member providing leadership, guidance and decision making for the organization. Ms. Markham provides board consultation to ChairtyMobi to guide the organization to become a high growth charity that provides World Health Relief Aid, responsible for seeking donor supported pharmaceutical products and services; providing oversight and guidance of the organizations strategic mission to serve medically needy children on a global basis.
Ms. Markham is the Regional Sales Director –Integrated Genetics providing a commitment to patients by offering a broad array of testing services for reproductive and genetic medicine. On December 1, 2010 Genzymne was purchased by LabCorp , and now operates as Integrated Genetics , a leading provider of high-quality testing services for physicians and their patients. With an extensive network of laboratories across the United States, Integrated Genetics assists thousands of clinicians in providing the best care possible to patients. The company specializes in reproductive testing, providing maternal serum screening to cystic fibrosis and Ashkenazi Jewish carrier screening to Reveals' SNP Microarray - Integrated Genetics offers an expansive menu of testing options, for the best care of patients.
In November 1998, Ms Markham joined Genzyme where she lead and directed one of the most consistently top performing sales teams in the country. She grew the initial territory of 10 states from $8 million dollars in net revenue to $34 million dollars in net revenue in 4 years. Grew the territory of 7 states from $7.5 million dollars in net revenue to $25 million in net revenue in three years.
From October 1996 to November 1998 she was Vice President responsible for New Business Development – Healthcare Information Services for Physicians Data Network, LLC (PDN), Atlanta, GA. She personally assisted the Chief Executive Officer to secure over $4 million dollars in venture capital.
From May 1994 to October 1996 , Vice President of Sales – Healthcare Information Services EQUIFAX CORPORATION, Atlanta, GA. She was responsible for organizing and directing sales operations, with P & L Responsibility, negotiated, closed and implemented contracts with some of the largest Managed Care Companies In the Unites States; such as Cigna, Blue Cross of MN, Empire Blue Cross, Blue Cross of GA, and Oxford Health Plans.