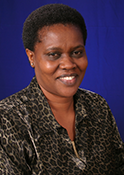 My motto is " together we can achieve a lot".
Grace Umutesi is from Rwanda. In 2001, Linda Melvin met Grace Umutesi. She was distraught, as she had left her sister's children behind in a refugee camp in Kenya. Grace has a harrowing story of how she luckily escaped from Rwanda, during the Rwandan Genocide in 1994. During her escape, she lost her husband and first daughter and other family relatives. She knew that God was in her life, and she never gave up.
After she arrived in the United States as a refugee in Atlanta, she struggled to find a way to bring those children left behind in the refugee camp.
Grace believes that "All people are born to help each other". "I suffered as a refugee because of the war, and my children also sufferer because they lost their Father.
In 2005 Grace Umutesi and Linda Melvin we worked together with the church, agencies and individuals to form a volunteer work team. We were able to support the new arrivals to help them with school, employment and full resettlement service including housing medical documents, school registration, medical care. Many thanks to St, Lawrence Catholic Church, who sponsored Grace in 1996. They provided a Refugee Ministry to raise funds for supporting each refugee until they were independent. Linda personally signed the papers as the sponsor for the thirteen children and family member to come to Atlanta. They came in 2005, and now they are all part of the community, working, graduating from college, having big weddings and beautiful babies.
Grace is the Executive Director of My Sister's Place, a program that is planing to serve widows and children in a citiy near Kigali, Rwanda. The program solicits donations to be used to pay the tution fees for private school education for needy children in Rwanda.
ALL THE GLORY BE TO GOD!