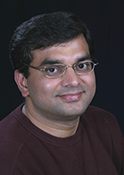 Damo is a Board Advisor for CharityMobi providing technology consultation and business advisory services. Damo has been actively involved in providing tele-conferences with the Board of Directors of CharityMobi. He provides advice for key start up decisions, and technology selection. Damo began providing advice and supportive donations during the organization's early development starting in February 2011.
EXPANSION OF CHARITYMOBI WORLD HEALTH RELIEF AID IN INDIA
Damo is interested in helping CharityMobi to expand World Health Relief Aid programs to be provided for thousands of medically children in India. The Board of Directors is working closely with Damo to complete a plan for the deployment of the MobiEHR® Health ID cards to be provided for children in orphanages in India.
Damo is presently employed as an OBIEE Consultant at a Finance Company. He previously worked as OBIEE consultant at Cox Communications, and has worked for Accenture and Verizon.Communications. Education: IEDC-Poslovna šola Bled MBA and of Master of Science Program,