Treasurer and Director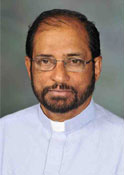 Father George Puridam Varkey serves as a member of the Board of Directors and Treasurer for CharityMobi. He provides leadership, guidance and decision making for the organization. Father Varkey provides board consultation to ChairtyMobi to guide the organization to become a high growth charity that provides World Health Relief Aid for medically needy children globally.
He is responsible for oversight of finance, evaluation of financial decisions for the organization; providing guidance of the organizations strategic mission to serve medically needy children in each foreign country, on a global basis.
Fr. George Puraidam Varkey, a Missionary of St. Francis de Sales (MSFS), serving as a Fransalian-Catholic priest for 41 years, working in the Indian missions of the MSFS from 1975 to 2004.
For 23 years he built up Christian Communities and engaging in Pastoral care and Social work uplifting the poorest of the poor. Empowerment of the weak and the vulnerable, was the focus of his ministry. Churches and educational institutions he founded and nurtured bear testimony to his service in the missions. During this period, he also served two Msfs Indian Provinces as their Chief Financial Officer. Currently he is a permanent member and Chief Financial Officer of the Msfs of USA Region. Besides his ecclesiastical studies, he holds a Bachelorette in Economics and a Masters in English Literature.